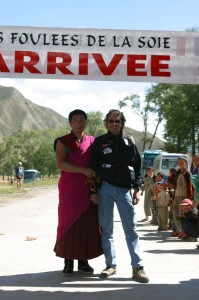 SDPO, it's the history of a marathonian Jean Claude Le Cornec who at the end of his career decided to share (as an organizer) with athletes his own passion. Bit disappointed by the purely sporting approach of his own trips (running around the world, without the discover) he decided to offer to the runners and walkers to affirm their talents by combining sport and culture differently.
Precursor of the adventure racing, Jean Claude starts with SDPO a sport journey  for the first time in August 1996 with "les foulées de la soie" (Strides Silk) (the first walking Raid held in China on the Silk Road ), but also the support of the Beijing and Shanghai's  Marathon. Then the enthusiasm and loyalty of successive participants allowed us to have the opportunity to share with them other destinations. All of  them characterize by their history and their special features.  SDPO proceed with the recognition of all, to avoid the usual routes.
Jean Claude has woven around him, a structure composed of professional volunteers and enthusiasts,athletes (doctors,physiotherapists, photographs, cameramen, journalists,computer,…).
SDPO's quote: If Running and walking was our only goal, we would miss out on many unforgettable moments.
This quote made the happiness of thousands of runners since 1996…